Derek Wills MVP del round 7 di Eurocup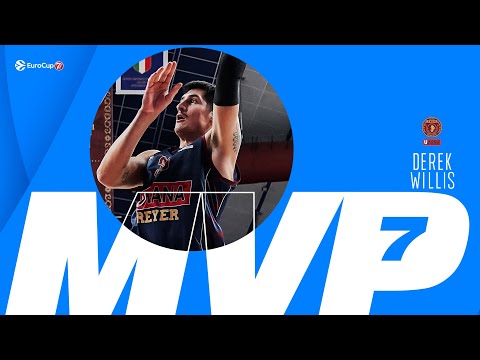 7Days Eurocup
Derek Willis of Umana Reyer Venice led the way among all winning players in Round 7 of the 7DAYS EuroCup after recording a PIR of 31 in his team's 78-65 win over Frutti Extra Bursaspor. This is the second time that the 27-year-old has won MVP of the Round honors in his 33-game EuroCup career, having previously done so while playing for ratiopharm Ulm in Round 5 of the 2019-20 season. Willis had a 19-point, 13-rebound double-double en route to his PIR of 31, which is a career-high.
Tomer Ginat of Hapoel Vegan Friendly Tel Aviv recorded a higher PIR than Willis, finishing with 36 after having a 24-point, 10-rebound double-double, but it came in a losing effort as his team fell 98-91 in overtime to host Veolia Towers Hamburg. Onuralp Bitim of Bursaspor had the third-highest PIR in Round 7 with 30, thanks to his 24 points, 6 rebounds, 2 assists and 2 steals in his team's defeat at the hands of Reyer. In the fourth spot for Round 7 was Kyle Allman of Paris Basketball, who had 26 points, 3 rebounds, 6 assists and 1 steal for a PIR of 29 in his team's 69-77 road win at Slask Wroclaw.
Tied for fifth place are Damien Inglis of Gran Canaria and DJ Kennedy of Prometey Slobozhanske; both players finished with a PIR of 28. Inglis had a 14-point, 10-rebound double-double, in addition to 4 assists and 2 steals, in Gran Canaria's 81-88 win at Turk Telekom Ankara. One night earlier, Kennedy had 12 points, 7 rebounds, 6 assists, 2 steals and drew 8 fouls as Prometey lost 92-85 in overtime to Mincidelice JL Bourg en Bresse.
---